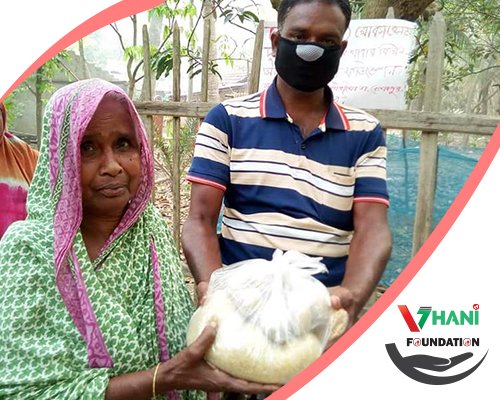 Vhani foundation (Company Reg. No.- 12793248  and Charity Reg. No.- 00000) is a part of VHANI GROUP OF COMPANIES LTD,Reg.No.- 11136408,England and Wales, It's a non-profit voluntary Charitable Organization operates in all over the United Kingdom (UK). The Charity hand expanded on the Bangladesh, Gaza, Yemen, a few countries of Africa and Syria too.
First Work from Vhani Foundation
The first foot step of the Foundation kept on 5th January, 2014.The Founder and Chairman of the Foundation is MD KHAIRUL ISLAM (ASHIQBABU VHANI) with His marvel skill of leadership where he keeps this ison-goingwith Vhani Foundation. In that time, Foundation was being guided and operated by his own family members. Even the founder chose the name of the Foundation from his own name e.g. "Vhani''which comes fromfamily designation and chose inauguration date on 5thJanuaryin reference to hisparents' marriage day and also he selected the dialogue that ''do not deprive the family members of his/s rights '' for instance;"help the deprived people with your level best" There was no de facto office of the Foundation. Planning and conferences were held in different places. The first event of Vhani foundation was held in Blood donation at Pouro Park, Jashoreon 14thFebruary, 2014. The inaugural performance on 14th February, 2014 was kept in memory along work diaries of Foundation.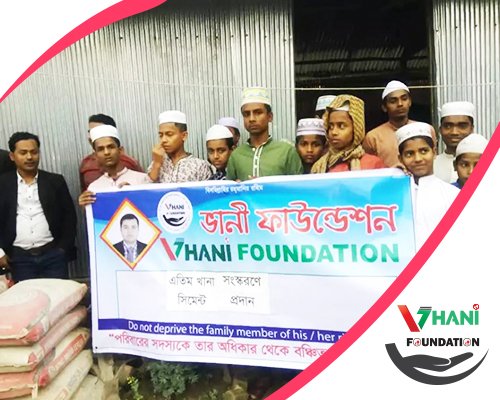 MISSION, VISSION, VALUES OF VHANI
In such way, Vhani foundation thinks about every single helpless individual. Vhani Foundation strongly believes sharing love, care and happiness are the fundamental principle of mission and vision of the Foundation. To change the people's view for vulnerable society of different areas from various countries along with all over Bangladesh so that people's hand may come on expansion for support from a single penny to big pound.
Considering this Vhani foundation planned few events for all people who needs love and care. Like – Christmas (provide gifts distribution to underprivileged and Orphan children) and 'Eid-e-chai notun jama' (new clothes distribution for Eid festival to street and underprivileged and Orphan children) are the main events for sharing love and happiness.
On the other hand, it believes those people who are helpless, no shelter to live, no food to eat, Vhani Foundation stands by them at any condition from its level best.
Vhani foundation is non-profit charitable organization with more regular staff and more volunteers' works in entire UK and Bangladesh and other countries. Most of the staff are the oldest volunteers, their allegiance and hard works has taken Vhani foundation to the next level. Few years ago, Vhani foundation didn't have a proper office but now because of the energetic team all departments, it has their own working place.
COMMITMENT OF THE FOUNDATION
We shared love and happiness with blood donors and other guests. The Vhani Foundation has been doing such events since then and continues with other charitable activities. It contributes to a number of great events with Blood donation, tree plantation,cement distribution, distribution if education equipment to poor student and distribution of religious stuffs e.g. Holy Quran. It has a great team of committed to profession who work hard for confirming best work of Vhani Foundation in various critical and drastic situation from time to time in different areas for example; Jashore, Satkhiraand Khulna Division of Bangladesh and other deprived society of the said countries.
COMMITTED TEAM IN UK
In that event, volunteers had done their job naturally over the entire Bangladesh and UK along with other countries. In that time, it has to facesa lot of challenges and overcome such with great achievement which is not monetary valuable. Over the struggling period, Vhani foundation couldn't afford to bring any huge changes in the society, but they had the attitude of not looking back. Those careful and committed volunteers' hard work has motivated ASHIQBABU with more self-confidence to run Vhani foundation. But now the time has changed, we can stand for more of people.
CONTRIBUTION
Vhani Foundation are working from dawn to dusk in various area's of different countries in different crisis moment. It has great contributiontoEmergency Appeal in the world for COVID-19 too.
Out of UK and Bangladesh, Vhani Foundation is expanding its hand to India, Gaza, Yemen, a few countries of Africa and Syria too. Other than these, the Foundation is planning to move around the world in which the people are seeking help from very critical moment.
MD KHAIRUL ISLAM (ASHIQBABU VHANI)
As a non-profit charitable organization, Vhani Foundation is a charitable Foundation, founded by MD KHAIRUL ISLAM (ASHIQBABU VHANI); a dedicated social worker, in the world which works with underprivileged communities to support their basic needs and work towards helping communities become permitted, Also people trust us to use their funds to advance protection. To safeguard this critical trust, Vhani foundation is faithful to best performs in authority, responsibility and transparency. This commitment exists at all levels of the organization. He was born at poor Muslim struggle traditional family in November 12, 1978 in the countryside of the Shapur (Gazi Bari), village under Tala upazila of Satkhira district of Bangladesh. Though his birth has been registered at "Vhani Grand Place" West Barandi Para Kodam Tala, 7400 Jashore, Bangladesh. He is married with ISRAT JAHAN and got a son named AFNAN MOAMMAD VHANI.
His father (Late PIR MOAMMAD) was freedom fighter (organizer)of Bangladesh Liberation War in 1971 at Jashore, Bangladesh. His father was an invincible soldier in the battle of life. His father was deprived of his rights by his father and younger brother and younger brother's children (age 18+). Later, with his 2 sons, 3 daughters and Wife, a new responsibility and transparency. This commitment exists at all levels of the organization. war of life started.His Mother Sakhina Mohammad (Clase 8, House wife and social worker too.) Vhani's elder brother is a business man who has completed his higher education from the University of Dhaka, Bangladesh and establish himself in society as a man of good heart with various social activities. Hiselder sister Nazma Sultana is a primary school teacher who completed her higher education from MM collage Jashore- Bangladesh. He is number third in his family and he got two younger sisters one works in medical sector (Dentist) who are currently a PhD Student of Mymensingh Medical College and other works as Assistant Director in National Human rights commission under the government supervision.
REASON BEHIND TO BE A SOCIAL WORKER
MD KHAIRUL ISLAM ASHIQBABU VHANI's dream was to make sure of everyone's basic rights which are deprived either by surroundings or any act of God like, natural calamities, war, pandemic and so on. He worked for such people from dawn to dusk for the sake of such people who are nightmares of his dream. Though he started from his door with single step but now he not any more single, he achieved lots of hands for his great and benevolent activities. He got a great team to work all around he find sorrows. His school and college were in Jashore, a small city. Though a small-town boy, he began to dream big. He had passed SSC in 1995 (He was SSC batch-1994) from Sammilani Institution, Jashoreand HSC in 2000 from MM collage Jashore respectively. He had completed his graduation in 2004from Bagharpara Degree College,Bagharpara, Jashore and also completed his Masters from Jagannath University, Dhaka, Bangladesh with major in Social science passing year -2010. He went to UK for a livelihood and higher study and he completed his post-graduation study level 7 and ACCA part qualified (part-1, 2, and 3) from ACCA (the Association of Chartered Certified Accountants) and he completed his MBA (Master of Business Administration) from Anglia Ruskin University (ARU), UK. He completed few courses like as International diploma in E-commerce from DIIT (Daffodil Institution of IT awarded by the NCC education, UK -2006) 2. Door supervisor license (SIA) and CCTV licence, NVQ-2 Certificate for Spector Safety, First Aid certificate, ACT e-learning certificate from UK. He was a student who did not give up the fight for life and still fighting against depriving family members of their rights until death as a social worker. He lives in permanently at London, UK and founded Vhani foundation, a non-profit charitable organization which focuses on many crises. His areas of interest include gender equity and equality, children rights, social business and leadership and also mentioned on above mission, vision and values of Vhani Foundation.
Governing Body of the Foundation
S. No

NAME

DESIGNATION

PHOTOES

01

MD KHAIRUL ISLAM ASHIQBABU VHANI's

Founder and Chairman

02

ISRAT JAHAN

Advisor

(Policy and Activity)

03

MD Mostafiz

Advisor

(Management)

04

XXXXXXXXX

Consultant

(Legal and Regulatory affairs)
The mind-set of progress and commitment are the things that make the Team Vhani foundation so extraordinary. Our self-motivated group of advisors and volunteers are the main push behind our significantsuccess. The group is a long way from being similar; they create from a variation of circumstances yet share same belief towards increase in the world through capability. At Vhani foundation, mixed variety is viewed as a bit of flexibility as conflicting to abarrier. People set aside their disparities to work enjoyably as a group. Age, race, training and ethnicity hold no limits here.